Our land, A treasure of flavours
Our company has been established in 1985 in Calabria, an Italian region rich in history and flavours.
Thanks to the warm weather and to the close connections with our farmers, we are able to get a daily availability of sun ripened vegetables harvested at the peak of their flavour.
Carefully selected high-quality ingredients are for us key.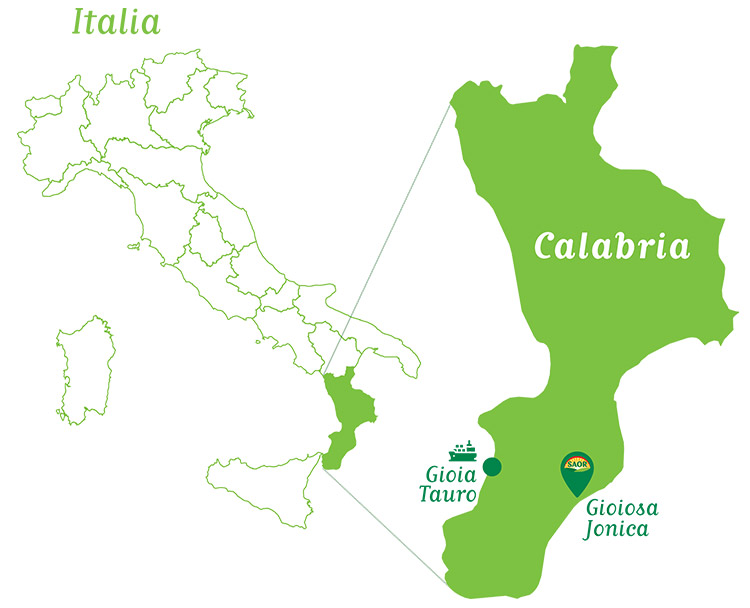 All our products start from a selection of the best fresh raw materials, daily sourced from local markets and farmers in the South of Italy.
We also grown some herbs in our own fields: basil, rosemary and parsley. Collected early in the morning, fresh herbs are added to Sauces and Antipasti same day of harvesting so that you can taste out of the product all their vibrancy and fresh flavors.
Locally sourced ingredients
In our Pasta Sauces there is the authentic Italian tradition
Gastronomic culture
between innovation and tradition
Gastronomic culture between innovation and tradition
The Mediterranean gastronomic culture is an undisputed value all over the world. We know how true this is and so we want to offer the best recipes of the Italian and Mediterranean tradition. In order to create the best recipes, we work with the best well-experienced Chefs.
All seasoned with a constant research towards improvement and innovation.
SOLAR PANELS. The energy used in our production process also comes from solar panels whose surface is being expanded for an increasingly sustainable impact.
WATER SAVING. We are working on the implementation of a water recycling system to optimize its use.
SEPARATE WASTE COLLECTION. We are committed to proper waste management, most of which can be recycled: glass, paper, cardboard, plastic, organic.
We take care of reducing the environmental impact of our products

Our technology guarantees maximum safety for the consumer: production lines with controls arranged along the entire production chain ensure that the product is not only excellent, but also safe.
A large part of the production volume is made up of "Private Labels": working under the customer's brand is a continuous stimulus to develop new products and find new solutions, as well as to seek innovative recipes customised to the customer.
Tradition and high technical standards go together in order to comply with all the requirements set in the field of food safety and by the Italian and the International authorities.
Saor Italia today means quality, tradition and high quality standards recognized through our certifications: BRC grade AA, IFS higher level and FSSC 22000, USDA ORGANIC, FSIS / USDA. Many of our products are NON-GMO certified.
Contact us to receive some information on our recipes or to create your own customised recipe and we will offer all our assistance to find the best solution for your needs.